Origami Mosaics and Make Paper Flowers
Three things to share with you today... first up, this short infomercial [edit: no longer available] that's part of a campaign to educate the public about Canada's oil pipelines. However you feel about pipelines, especially considering the recent burst and clean-up that's going on in Arkansas, the paper art (or is it digital?) by an uncredited agency is pretty darn great.
You might remember
Kota Hiratsuka
of Japan who creates unique origami mosaics. He sent a message to let us know his
templates are now available
. The trial-size, mini-template you see here sells for about 2 USD via PayPal - an inexpensive way to see if the technique suits you. Scroll down on his page to see the array of colorful, full-size designs.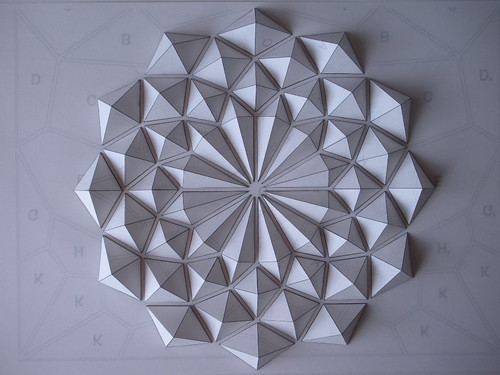 Be the first on your block to check out Jeffery Rudell's
Paper Blooms
25 Extraordinary Flowers to Make for Weddings, Celebrations, & More
. It's a brand new release from Lark Crafts.
I haven't had a chance to see it in person yet myself, but am looking forward to exploring Jeffery's ideas. His creativity never disappoints and he's known for instructions that are engaging and clear.