Paper Sculpture Figures by Patty Grazini - Baroque People and Their Pets
Perhaps, like me, you look forward to seeing paper artist
Patty Grazini
's annual collection of historical figures that she makes
entirely
of paper. Each November, themed work that Patty has completed during the year is featured in a show at Curtis Steiner in Ballard, Seattle. This year's remarkable assemblage features Baroque people and their pets. I invited Patty to tell us about her impetus for the project as well as a bit about her process... Welcome, Patty!
I have always enjoyed combining my art and with my interest in history and culture. When I started this paper group, I knew that I would create a body of work based around classic paintings of people and their pets.
I started by collecting portraits of people with various animals without narrowing my choices to a certain time period. I soon discovered that there was a particularly large number of these portrait paintings in the 17
th
and 18
th
centuries throughout Europe. I loved the costumes from the Baroque period so focused my work in that time period. The connection people felt with their pets was as obvious then as it is now. I decided that I would try to express this sentiment as much as possible in each sculpture.
This dog and his owner really captured a moment in time for me. I tried to give the dog the same sort of refined haughtiness that the portrait suggested. Making feathers is something I always enjoy.
The standing figures are 10-12 inches tall without their base, and are accompanied by the portrait that was my inspiration for the work. I completed a group of nine standing figures and a smaller group of six. The smaller group kept the theme by taking elements of the portrait paintings and blending them into small vignettes. It was enjoyable to work on these after spending several months of intense detailing in the larger figures. I wondered who this woman was and why she would have this bird as her pet. I loved her hat too.
I often feel challenged when starting a new project with so many small details to consider. It is a complicated task of how to replicate in paper, a two-dimensional person or object into three dimensions. The largest challenge with this group was to create the illusion that the central figure has left the painting and reappeared with the pet's head.
I wanted to blend the animal's and the owner's personalities in a way that captures the mood that the painting created for me. Once the head and body were completed I worked on the clothing. It was rarely possible to find paper that was the exact color or pattern as in the painting, so I often dyed, and sometimes hand-drew, patterns on the paper that I used. With this group almost every piece of paper was dyed to match the fabric in the painting.
When I found the lovely portrait that inspired this sheep figure, I knew right away I wanted to recreate her. Many of the portraits I found were unattributed. Happily, this painting was the work of Marianne Loir, a woman portrait painter. I was immediately excited about the prospect of making all the tiny flowers and her beautiful dress.
This particular dog really challenged me. It was hard to recreate the dress in paper as it is very wide... I needed to make a strong base and foundation to hold the shape and still make it look like fabric.
The head covering was also a bit of a mystery to me. I couldn't see it from the back, so I wasn't exactly sure how to construct it. I decided to make it a snood with tiny pompoms.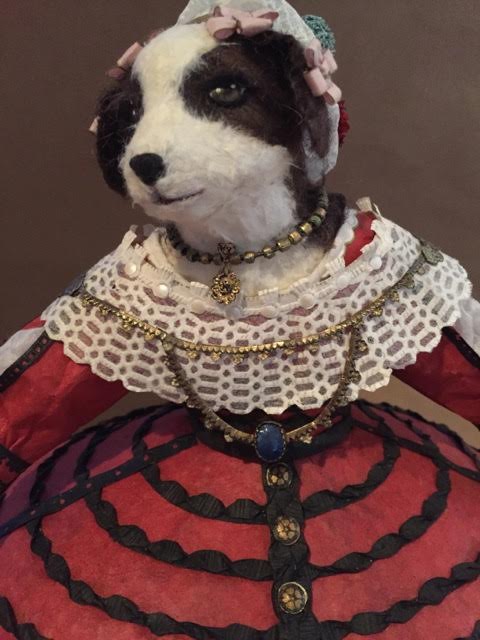 Patty Grazini
is on
Instagram
and
Facebook
.