Holiday Paper Treats
Paper-y goodness in card and gift form found its way into my life this holiday season, so I thought it would be fun to do an assemblage post before Christmas and New Year celebrations have faded too far from our thoughts.
This pretty laser cut card with a birds-in-birches, tri-fold design was sent by my sister. It's from
Peter Pauper Press
.
We also received this more unusual holiday greeting. It's a 3D punch, fold, and assemble paperboard rendition of pop artist Roy Lichtenstein's 1996 bronze sculpture Brushstroke. A mini-art piece at about six inches tall, it's perfect for desk display.
Casey Starks
of
Vitamini
and
vitaModern
sent this retro Noel card that she screen printed after creating the paper cutting. If you've had a yen to try screen printing, but haven't known quite where to start, Casey details the process and shows how to make something
very
nice in the All Things Paper book due out this spring.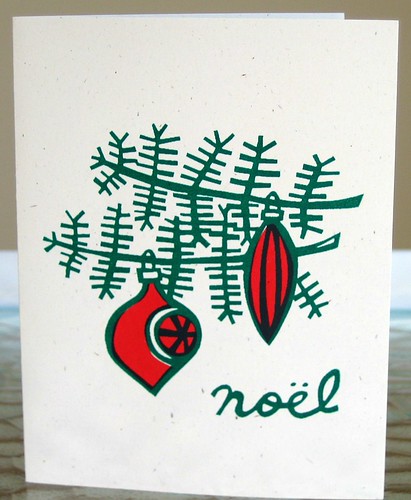 Linda Thalmann
of
PaperPhine
surprised me with these red/white and black/white paper twines. Amazing stuff, it's strong, yet flexible and easily manipulated - great for gift wrapping or jewelry making. She also has a stylish project in the book.
Laura Nicoulaud
of
Laura des villes Laura des champs
sent me a vitrified paper boat necklace as a thank you for hosting her giveaway and for featuring the shop this past year. It's gorgeous, as is the elegant, faceted paper box. By the way, hiver is French for winter - I looked it up. :)
My husband was in California right before Christmas and brought back this beautiful sheet of metallic Japanese paper from a letterpress shop in Berkeley called
Twig & Fig
. I'm planning to have it framed as I can't imagine cutting into it. He had the opportunity to attend a Japanese tea ceremony in San Francisco's Golden Gate Park where the guests were given authentic paper fans... durable, yet light as a feather.
You might recall
Bronia Sawyer
and her stunning
mirrored book sculptures
. I was thrilled to receive this matted photograph of Book Lungs and have picked out a spot to hang it as soon as I find the perfect frame. She also sent along postcards that show additional images of her altered book art.
Last but not least, a bottle of
Fetzer wine
found its way under the Christmas tree - apropo because the 2012 Fetzer Vineyards ad campaign by the Formium agency featured quilling and layered paper cut trees.
You may have seen one of their ads on the ATP Facebook page, but I wanted to share it here also.
I'll never grow tired of seeing beautifully quilled ad designs and just wish each one would indicate what this on-edge paper art is called... surely people who have never seen it before must wonder!