Op Art Papercuts - Crissy Tioseco
Multitudes of paper cutters do incredible work... there simply aren't enough weeks in the year to feature all those whose designs I would like to share. These examples by
Crissy Tioseco
of Vancouver, British Columbia caught my eye because she incorporates something special into her papercuts...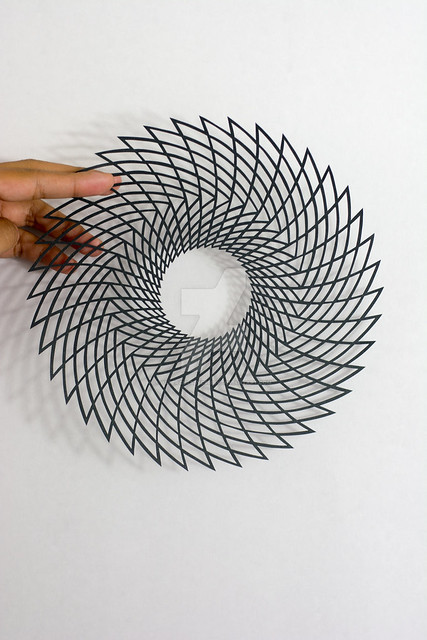 ... illusional dimension. Many of Crissy's pieces are throwbacks to 70's op art that fool the eye with depth and movement created via perfectly cut and spaced lines.
I've always been interested in art and design, but I never did anything serious with it growing up. As a psychology student, I lived with three design students and was exposed to that environment a lot. It led to watercolor painting, pottery, screen printing, drawing, writing, teaching art, etc., as I tried to find the creative outlet that worked best for me. Around seven years ago while making a card for a friend, I began playing around with a cutting knife and now I'm here, a self-taught paper cutter.
It has only been in the last couple of years that I've started to push myself and take my work seriously. I set a personal goal to put on a show, as I wanted to see my pieces displayed somewhere other than in my own home... I spent the year slowly building up to that and now my work is on display in the heart of Mount Pleasant, Vancouver.
Because I don't have a strong background in the arts, I'm still discovering a lot of new things. I love what I do and I'm lucky to have found the right outlet that works best for me. I've been playing around with different ideas, but still staying true to what I love...paper and cutouts. I'm currently trying different techniques such as
3D cutouts
that can be arranged in a multitude of ways and layered with different colors. So far I've been really pleased.
I plan to continue challenging myself and hopefully one day I can be a full time paper artist. One can dream! But for now I'm having fun creating things and immersing myself in the world of paper to see where it takes me. Paper is so flexible and there is so much you can do with it that I'm excited to discover ways I can incorporate my cutouts into other forms of paper art like origami, sculpture and more.
What is it about paper cutting that attracts you?
Several reasons... I love that paper is both so delicate, but at the same time surprisingly sturdy. It's also a methodical and repetitive motion that makes it very meditative. I like the idea that the same motion can form a multitude of patterns and designs, and that it's also permanent. Once the cut has been made there is no going back. If you mess up, you either have to start again or be quick on your toes and make changes on the spot. It takes a lot of planning and it is a true test of my patience. Ironically, I am quite an impatient person when it comes to wanting to see results... this is what pushes me harder to make and finish my pieces. I keep cutting because I am too excited and cannot wait to see how the design turns out.
What are your favorite materials and tools? People always like to hear about what works well for others.
What's great about paper cutting is that you don't need a lot to do it. The essential stuff is paper, a pen or pencil, and a self-healing cutting mat. I like to use an X-acto knife with #11 blades. This is my usual work setup:
Whether I work from home, a shared office space or am just traveling, I always bring these things with me. You never know when inspiration will hit.
What types of designs are your favorite to create? Along with your illusion cuts, you've shared quite a few florals on Instagram, but also other images that are eye-catching. I noticed people have been clamoring for you to design tattoos.

I draw inspiration from almost everything, but mostly from nature and the outdoors. I had a big flower phase which slowly progressed from literal flowers to more abstract botanical designs. I'm fascinated with how there is a natural logic to nature and if you look closely enough you can see patterns and repetition in almost anything. My show
A Natural Sort of Logic
was based on this concept.
I especially like that some of your designs are simple everyday moments viewed from an interesting perspective.

What's next for you?
I'm focused on new designs and setting up a shop at
Society6
. I welcome inquiries about creating commissioned pieces.
Crissy Tioseco is on
Instagram
and
Facebook
. Her first show wraps up today at Kafka's in Vancouver, but I'm positive we'll be seeing more of her art exhibited elsewhere soon.